Patio Dining Sets Maintenance and Care
When we talk about outdoor patio furniture, the first thing that crops up in our mind is its maintenance. While this kind of furnishing has gained quite a lot of popularity in the recent years, it also comes with a catch, and that is, its maintenance and care. When you are ready to spend a good chunk of your finance towards expensive furniture, you would also definitely like to know about its upkeep and wear and tear issues. Just so that you know, patio furniture does not just need regular wood maintenance, but involves a lot more patio chores to be taken care of. Here are some of the tips and techniques for safeguarding of your patio dining sets.
Plastic Patio Dining Sets Maintenance and Care
This is the cheapest kind of patio furniture you can have in your backyard. And to be precise, this never really commands a constant maintenance servant. Even though plastic furnishing never gives you that extra oomph factor in your landscape, but there are indeed some urbane designs available these days. Talking about its maintenance, plastic is actually a bit more fragile than other options like metal. However, in case you are planning to buy this material, you need to be first careful regarding its sturdiness.
This piece of furniture will easily withstand monsoon. However, when it comes to freezing temperatures, it is highly recommended that you shift your plastic patio dining set inside. The best part about storing them inside is that this furniture can be stacked one on the other and so, it will not consume a lot of space. Plastic isn't prone to staining and so, just wiping it with a wet cloth can suffice.
Aluminium Patio Dining Sets Maintaining tips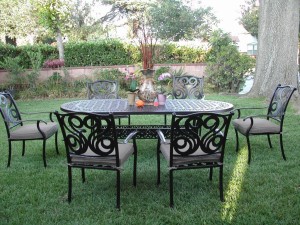 This is highly lightweight material and since time immemorial, it has been used as the basic material for patio furnishing. In the modern times, aluminium patio dining sets are available in a range of designs and not just the archetypical designs. Maintenance of this furniture has become quite easy too. Investing in protective coverings can be a good idea though. This dining set in your landscape will be easy to maintain and also shift, just in case you plan to land it at a much safer destination.
Wrought Iron Patio Dining Sets Maintenance and Care
If there is really low-maintenance patio dining set, it is this one! Nothing will beat wrought iron. Not only is it beautiful and strong, but also does not require dedicated cleaning. It can remain just perfect with occasional clean-up as well. You may leave it in the exterior of your home throughout the year and not worry about any ill effects. Even during winters, you need not panic about storage space because wrought iron is a typically low upkeep material in patio furnishing. Buying wrought iron patio dining set in black color will be an added advantage because you will really not have to worry about regular cleaning.
Fabric-Based Patio Dining Sets
Having thought of buying the fabric-based patio dining sets, you will also for sure, plan to buy cushions to make it extra comfortable. It is the cushions, primarily, that will need more care and maintenance. A lot of people, for this reason, prefer not to use the fabric-based furnishing for the exterior of their homes. However, if you already own one such dining set in your landscape, better opt for sealing of the cushions using sprays, which can be done on your own as well. In such a case, the cushions will even be resistant to rain, provided you keep the sealing intact.
Teak Patio Dining Sets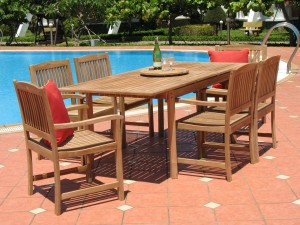 Even though it looks quite elegant and chic, but teak patio dining sets will demand less care. Most of the wooden sets cannot be used in the exterior throughout the year. However, if you are investing in teak, it can be a great idea because the patio teak dining sets comes protected already with the oil. This can keep the wooden material in good condition in all kinds of weathers. Originally, teak was used in preparation of ship decks. So, you may now analyze, the reason why teak will be a good option, provided you are ready to spend that much.
Some of the classiest exterior patio dining sets can be created with the amalgamation of teak and wrought iron. And this combination will, even though, be expensive, but will require low maintenance and worth your investment!
Choosing the most efficient and absolutely low-maintenance patio dining sets will demand your time. Also, you will have to think about the pros and cons of all kinds of materials. But, the end result would be completely valuable. Buy the kind of furniture that will resist the harsh elements of nature and the atrocities of weather. Apart from this, regular cleaning and wiping off the dust will suffice your purpose.