How to Choose Patio Furniture for Small Spaces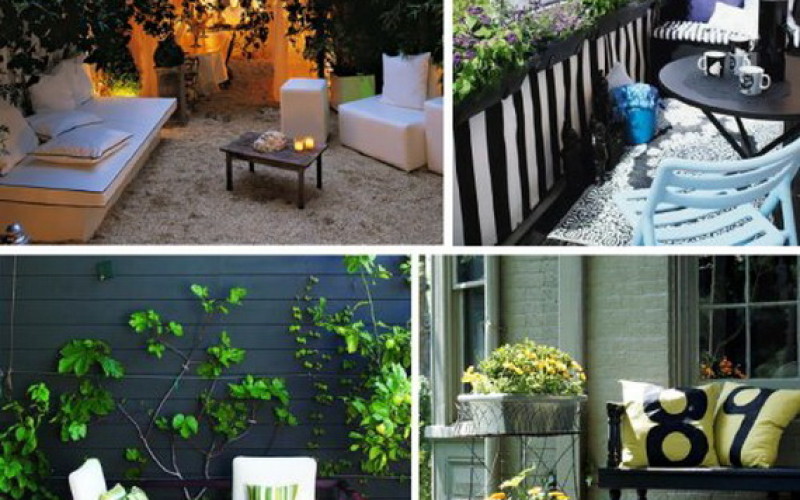 We all desire to live in a house that is huge and gives you freedom to explore creativity in terms of interior and exterior arrangement. But not all of us are fortunate enough to live in such homes. Nevertheless, if you have a desire to create something beautiful, even a little space can be more than enough. However, there is no denying of the fact that little and smaller spaces constrain us and pose real challenges. Fortunately, there are a lot of ways in which one can have a beautiful patio furniture in the limited exterior space, thanks to large number of all-size furnishings available these days. Therefore, there is absolutely no need to worry. Rather, keep your focus on creation of such a space where you can have family-time and friends' entertainment space. Here is your guide to choose summer patio furniture for small spaces and limited space-availability areas.
Wall-Hung Patio Furnishings
Regardless of the fact that you have absolutely no space to keep your furniture, you can create such a setting where your friends and family will love to spend more time. Wall hung patio furnishings have become quite popular these days and the good part is that, even people with a lot of space buy these, just because they look different and out of the box. You can indeed create your own little summer oasis with such wall-hung patio furniture piece in your backyard, adorned with little greenery pots and well-placed colourful flowers or planters.
You can have mounted benches as well as tables which will be a fantastic space-saving idea. Even though this is a costly option, but teak will definitely be a great choice to make. You can simply make use of the hinges which will hold your heavy furnishings and you can take a calm and composed time out for yourself while sitting on it with foldable legs.
Dual-Purpose Patio Furniture
Your living space can find extension with the help of dual-purpose patio furniture. No matter how limited your space is you can always extend your living room or kitchen with this kind of furniture. When you have a smaller outside area, you should seek out for smaller patio furnishings that serve a lot more purposes. For example, you can go for something like a chair with opening lid, which can also allow you to store something. Or, the both-sides tables can be a space-storage unit as well.
Stackable Patio Furniture
Because you have limited space and you cannot experiment a lot, therefore, you should not rule out the stackable patio furniture, which is available to you in the form of plastic. Easy to maintain, not too heavy on your pocket and a fabulous space-conserving unit, the plastic patio furniture is also available these days in a range of designs and colors. Stacking them one on top of the other is an easy way and you can always keep moving them in and out of your home as and when required. This is the "at your whim" kind of a furniture and a great idea for small spaces.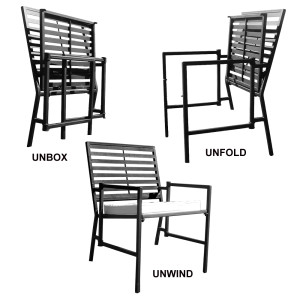 Folding Patio Furnishing
There is another tremendous option for limited space, and this is the folding furniture. It is apt for the smaller balconies, and consumes almost negligible space which you can easily afford in your small apartment or home. Folding chairs as well as tables or other smaller and funky units, which can be folded and kept aside, is a great idea for small areas. You can enjoy the sunshine and when not required, just fold and keep this piece of furniture away.
Mind the Shape
Apart from all the aforementioned ideas for saving space, there is another element that you must not forget. This is the shape of your patio furniture. The regular shapes like rectangular or square, circular and oval are easily available to any consumer. However, these days, the furniture designers are also bringing in the new and funky shapes, which include triangular, star, fish, fruits or whatever shapes you can think of. There is always an option of getting your own desired shape designed from a trustworthy manufacturer, keeping into consideration the space availability in your home. Corners are a great place to beautify with the triangular patio furnishing units. You may either take it as a decorative unit, or something to recline on.
Other Ideas: Making the Smaller Space "Look" Bigger
While choosing the summer patio furniture for small spaces, another factor that comes handy, is the color. Even though the color is not the physical factor that will determine your space saving effort, but it adds a lot of effect, in terms of making an area look smaller or bigger. So, choosing the lighter shades will make the space look neat and tidy, but choosing warm and pastel colors can also be fine. However, bolder colors will make your smaller space look even tighter. And what more! You can just add a patio frame in your balcony with a mirror and your smaller space will naturally start looking bigger.