Patio Dining Sets Buying Guide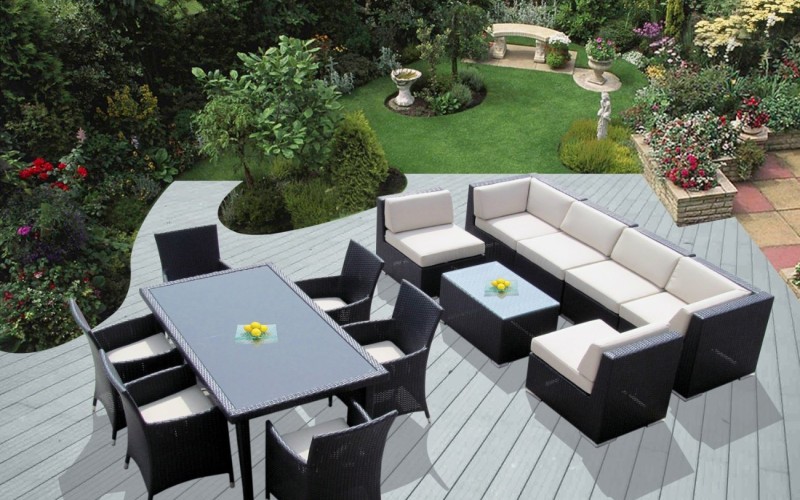 Patio Dining Sets Buying Guide – What You Need To Know
Patios have definitely become the latest trend in urban settings of the contemporary landscapes of every home. Also, the designers are leaving no stone unturned to develop newer styles as far as stylish designs are concerned. From innovation to freshness, creativity to newness, the furniture designers have unleashed their concepts in patio furnishings; especially the dining sets.
Most of the people these days prefer outdoor furnishing. After all, who doesn't like to take all of the sunshine in good weather and enjoy a comfortable dinner outside with the friends? So, if you are planning to hog into the market for patio dining sets, here is everything that you would like to know.
Choosing the material – Wood, Metal, or Plastic?
Buyers can easily make a choice from the aforementioned three options, depending upon a few factors like your home décor, your styling sense and lifestyle. While wooden patio dining sets are absolutely aesthetic and durable, there are a few things that you need to mull over seriously. For example, you will have to give due attention to its construction. It is recommended that you check for the sturdy dovetail and also the tenon joinery. Also, picking up very original colour, that appears to be warmer, is suitable. However, it would be good if you go for teak protector application on annual basis.
Now, considering metal patio dining sets, you have two options- wrought iron or aluminium. The former ones can weigh heavily on your pocket because of their expensive range, but the add-on is that, you can pick from varied designs and styles. However, wrought iron may corrode over the time because of rusting, despite the fact that these days, it comes sprayed with a few materials to avoid rusting. Aluminium patio dining sets too come on the heavier price range side. But, the positive aspect is that they are not prone to rusting. In fact, they are totally rustproof. Additionally, their weight is absolutely feather-like and so, shifting becomes easier.
Coming to the last material option- plastic patio dining sets, it would be wrong to say that this is the new baby in the league. By far, these weigh the lightest on the pockets. And the most amazing aspect of these ones is that they are absolutely resistible to all kinds of weather. These days, you may get a much better looking plastic patio dining set than what you have already imagined. Innovation in designs can be seen clearly these days.
Visualize the Furniture Space in your Mind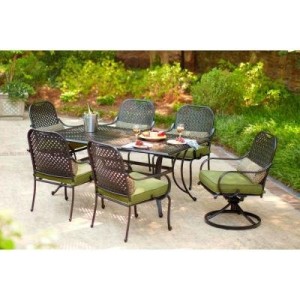 On the canvas of your mind, just visualize the space that you have in your home for this dining set placement. This will help you in being your own guide when you actually go out to buy the dining set. Depending upon the space availability in your home or landscape, you can decide on the number of chairs that should be apt. Of course, if you have a space for say, six chairs, go for it. Nevertheless, keep in mind that because you are planning to buy this set for outdoor setting, you should also leave some breathing space, lest everything becomes too crowded.
The aforementioned point will also come handy here, because you will be easily able to decide the kind of material that will look aligned to the setting. Yet another important thing that should be considered is the shape of your table. You may choose from a few available shapes- rectangular, oval and circular. Rectangular ones consume a little more space than the other two, but this is totally dependent on your choice and the limitation of space that you have in your home.
Consider the General Climate
Depending upon your space availability and choice of material that you would like to buy, you can go for the kind of patio dining sets at your own whim. But here is a catch! Patio fittings are too prone to wear and tear; especially if your setting is outdoor. Therefore, it becomes vital to keep in mind the general climatic condition as well as the extreme weathers in the area where you are living. It is recommended that you opt for aluminium patio sets or plastic ones, in case your home sits in the zone of extreme conditions. In usually moderate kind of weather conditions, one may opt from a range of casual materials too, and these include wicker or rattan. Even though it is quite obvious that most of the homeowners love to buy a kind of furniture set that offers aesthetic appearance to the entire backdrop, but sustainability is an important factor to consider as well.
Maintenance: A Prominent Factor
Now here is one of the most important points to be considered. Patio covering form an important part of the furniture buying; especially if you are spending good amount of money. To ensure that your patio dining set lasts longer, you should give due thought to its maintenance. One of the best ways is to use shades and covers in the landscape where this set is placed.
Apart from that, like mentioned already, in case of wooden furniture, go for teak protection every year, or as and when you feel its requirement. Wrought iron patio dining sets should be best maintained by keeping at a good enough distance from water areas, especially the pools. Plastic ones take the least toll on efforts for maintenance. On a regular basis, it is recommended that you keep checking the wear and tear and get them fixed for avoiding further corrosion. Regular dusting and polishing can keep your patio dining sets safe and well maintained.
When you plan to spend good amount of money on such set of furniture, it is also crucial to give enough time to its maintenance. Of course, everything will settle at your budget and so, you can make a wise choice depending upon your monetary limitations. Elegant designs are easily accessible these days and so you can make your patios look all the more stylish, comfortable and trendy