Outdoor Interiors S10666G 7-Piece Patio Dining Set Review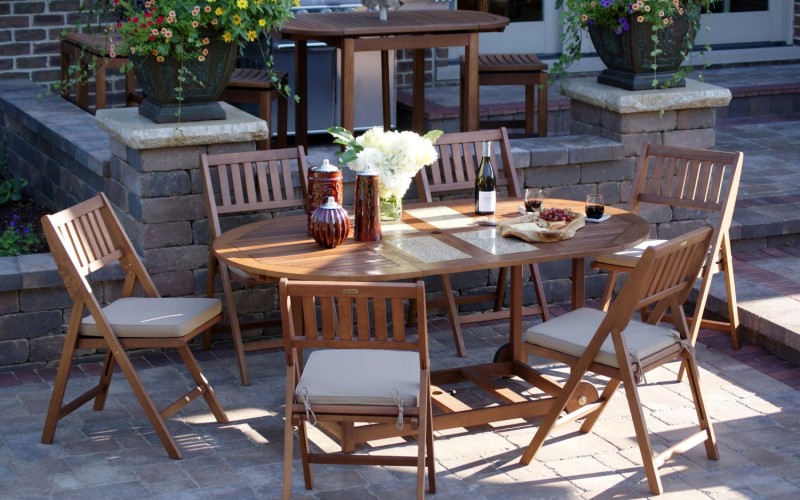 These days a lot of people are becoming highly confident about buying patio dining set over the internet. Outdoor Interiors S10666G 7-piece patio dining set is a great example of high end products that you can find online. If you are in search for the best of fold and store table set, this is the right set you can invest your money in.
Is it a good option to consider?
This 7-piece patio dining set has achieved so many positive testimonials from the customers and so if you are on the lookout for a high quality furniture set, try considering this product for sure. You will be happy to know that Outdoor Interiors is the FSC certified manufacturer that offers plantation grown eucalyptus from the well-managed forests. The hardwood follows C.O.C (Chain of Custody). The fully assembled set includes 6 patio chairs and cushions, granite inlay table and cover for the whole set.
Top Features of the Outdoor Interiors S10666G
Functional, durable and amazing 7 piece patio dining set
6 chairs along with cushions
Foldable table that can be stored easily
70 inch table that has great granite inlay
Require no assembly
The mission of the manufacturer is to offer space saving, stylish design furniture set using sustainable, great hardwood along with other exciting materials and fabrics. Using top quality hardwood, the unique style and design of the table set will surely make your outdoor patio area a superb place to be.
Why is it so popular?
Eucalyptus used in making of this set is one of the dense and fastest growing hardwoods that are liked worldwide for its durability and strength in all types of weather. It is even naturally resistant to wear and tear. Eucalyptus will eventually grow into silvery finish with some time unless it is treated with furniture oil. It is recommended that you use a natural Linseed oil or teak or hardwood oil for Outdoor Interiors Eucalyptus furniture set.
The hardwood used by the manufacturer in making of this 7-piece patio dining set is very dense and has luxurious straight grain with high content of oil, just like teak. It is brilliant for outdoor setting due to its high strength, durability and rich appeal.
What you enjoy?
The 70-inch oval fold and store table included in the set has an amazing granite inlay. The chairs are also foldable and can thus pack neatly in small areas when not in use. Even the table has wheels so that you can move it easily.
So when it comes to buying an outdoor patio dining set, it is very important to consider all your options. There are a lot of options available in the market. But make sure that you opt for only a high quality, attractive and longer lasting set only. You can easily search on the internet and see customer reviews and feedback or can ask your friends and relatives about the best foldable table set. In our opinion, we give Outdoor Interiors S10666G 7-piece oval fold and store table set with cushions and cover a thumbs-up.
Is it recommended?
Yes. With all the good reviews on this patio dining set, we recommend that you pick the Outdoor Interiors S10666G 7-Piece Oval Fold and Store Table Set with Cushions and Cover up from Amazon.com where you can save money and get awesome deals on patio dining set. Click here to see the deal!
Customer Reviews
By Dovetail Acres
This is a wonderful set! It closes up for storage for the winter with a good canvas cover–sits on our deck all winter! The chairs fit underneath the folded table. We have had the set for 3 years now and it is holding up very well. We oil all the wood every Spring to maintain it. This last year, my husband had to take the top off and re-do the turning mechanism because it was so difficult to turn [you have to turn the top 90 degrees to fold the sides down.] He replaced the wood in the turn mechanism with heavy plastic about 1/2 inch thick??. He's a mechanic and carpenter, so it was no problem for him. I am sure this will make the table set last for years to come! We are very pleased with this purchase! Read More.
By Debra Knowles
After reading several reviews about the packing of this set I was a bit hesitant. Bought it anyway and I am so very glad I did! My set arrived just fine and appeared to be packaged just fine. The chairs and table are both great quality and fit perfectly on our deck. Glad there is a cover. The table does take 2 to turn but is very stable when open. We are very happy with this set! Doesn't take up much room when all together. Read More.